Side by Side Charity Night - compered by Ian Shaw feat. Barb Jungr, Georgia Mancio/Kate Williams, Doon Mackichan, Trish Clowes & Bumi Thomas
Sunday 1st December 2019 - 8:30 pm
Music Charge: £20.00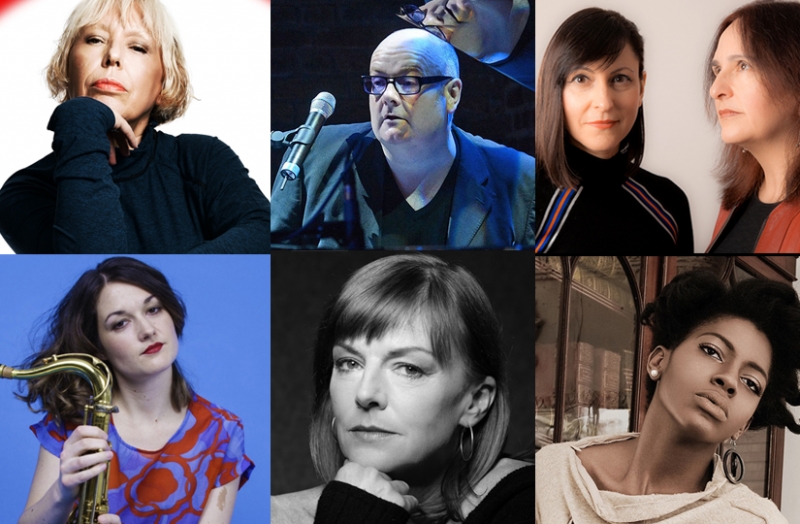 A number of the UK's leading Jazz and Cabaret artists are joining forces tonight for this very special concert in aid of Side by Side Refugees. A non-political NGO originally set up to provide humanitarian relief to those living in refugee camps in Calais and Dunkirk SBSR have now expanded their operations to support other organisations working on the front line by fundraising on their behalf. Over to SBSR for the best description of what they do: "Because we're small we're able to be dynamic and change our priorities according to the greatest need. We work out what's most in demand, find it and deliver it to other agencies on the ground or directly into the hands of those who are most disadvantaged". Good stuff.
For the show tonight you can expect an eclectic mix of soulful blues, jazz standards, Bob Dylan, Brazilian music and musical virtuosity from award-winning, critically acclaimed artists performing intimate stripped down sets with all the proceeds going to Side by Side. The evening will be compered by the wonderful Ian Shaw, a regular volunteer at the camps and one of the driving forces behind this evening's event. Ian is a record producer, broadcaster, raconteur, pianist oh and one of Europe's finest male jazz vocalists. Named Best Vocalist of the Year twice(!) at the BBC Jazz Awards, the multi-award-winning Ian Shaw is a huge talent with the most engaging personality and an ability to make every song his own. "One of the scene's class acts" The Guardian; "…our finest Jazz singer" Time Out.
Joining Ian this evening will be: the remarkable Barb Jungr. Described as "Britain's most gifted song stylist" multi-award-winning vocalist Barb Jungr has successfully combined the intricacies of cabaret with the power of jazz to create a unique concept. "Élan, intelligence and passionate engagement" World Music Report; "genius" Time Out London.
Georgia Mancio & Kate Williams. Two of the UK's leading jazz artists, pianist/composer Kate Williams and vocalist/lyricist Georgia Mancio's credits are vast and impressive. Georgia includes work with the likes of Bobby McFerrin, Jason Rebello and double Grammy-winning pianist/composer Alan Broadbent. Kate is a previous winner of the John Dankworth Award and has released seven CDs with her CD "Four Plus Three" being received with significant acclaim. "the immaculate Mancio…the brilliant Kate Williams" Jazz Views.
Trish Clowes & Bumi Thomas. Described as "one of the most agile and original jugglers of improv and adventurous composition to have appeared in the UK in recent times" multi-award-winning saxophonist and composer Trish Clowes has developed into one of the most exciting artists on the jazz scene today. Joining her tonight will be the award-winning vocalist Bumi Thomas, who has been described as an impressive "contemporary, acoustic jazz-folk-soul singer-songwriter". Should be a winning combination. "Clowes…uncommon genius" JazzDaGama; "Bumi Thomas...a sublimely enriching musical experience" What's On Africa.
Also appearing will be the excellent Italian vocalist Adriana Vasques who will be performing a Brazilian set dedicated to the pianist Ugo Delmirani in the company of guitarist Guille Hill and bass player Andy Lafone.
And keep a special watch out for Award winning comedian and actress Doon Mackichan, whose credits include Smack the Pony, The Day Today, Knowing Me Knowing You, Brass Eye, Gladiatress and Plebs, who will be performing a couple of duets with Ian (you heard it here first!). A unique night of amazing music (and fantastic raffle prizes!) this promises to be a fabulous evening.
There will also be a raffle and various goods ("wonderful jamalades, Christmas Cards and Tote bags") available for purchase.
Please note cash is requested.