The Oxley-Meier Guitar Project
Wednesday 27th April 2022 - 8:00 pm
Music Charge: £14.00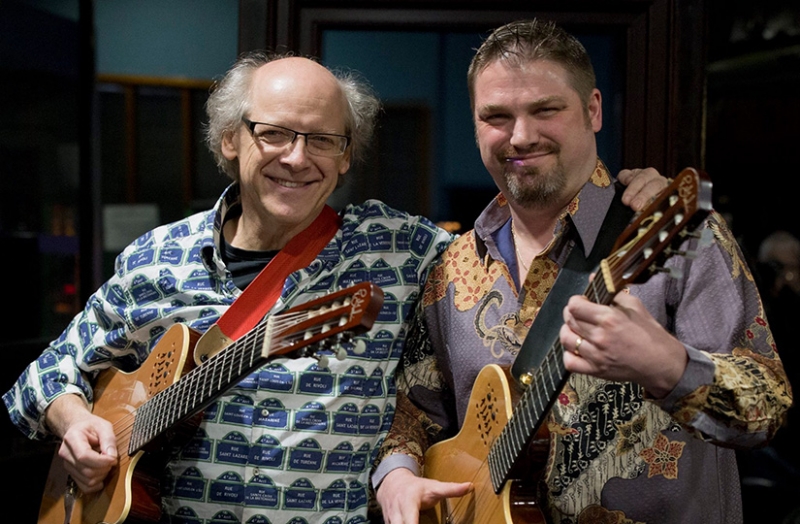 "Here's a fret fest that shouldn't be allowed to slip under the radar."

Jazzwise
Tonight sees the pairing of two of the finest and most striking jazz guitarists in the UK, Nicolas Meier and Pete Oxley. Mixing jazz, heavy metal, Turkish-influenced music, Flamenco and Tango Nic Meier is an established star on the British jazz scene. A recipient of numerous awards he earned a scholarship to Boston's illustrious Berklee College of Music before settling on London as the perfect destination for combining the energy of the US with a happening European scene. His versatility and musical fluency drew the attention of guitar legend Jeff Beck, who for two world tours during the last several years has made Nicolas a mainstay of The Jeff Beck Group. Pete Oxley moved to Paris in the late 80's, where he established himself as a versatile guitarist. Through the 90's he toured throughout mainland Europe as well as making regular visits back to the UK before returning to England in the late 90's. It wasn't long before his melodic and fluent playing was being sought after and in 1999 he became involved with a new contemporary jazz club in Oxford, The Spin, which has over the years established itself as an Award winning and much respected venue. Tonight Nic and Pete bring their fantastic quartet to the Club featuring bassist Raph Mizraki and Paul Cavaciuti on drums plus an impressive array of guitars and similar stringed instruments, performing an entirely new programme of music written for their next album. The interplay between these two highly skilled and creative musicians is something truly special and a must see for anyone interested in music of the highest quality.
"when it comes to empathy this duet of guitar virtuosi comes close to perfection" Guardian; "A fascinating fusion opulent with evocative splendour" MOJO, ★★★★; "Oxley and Meier, two outstanding players...a worthy addition to the guitar duo Hall of Fame." Bebop Spoken Here; "Here's a fret fest that shouldn't be allowed to slip under the radar." Jazzwise
Artist Notification Get notified when The Oxley-Meier Guitar Project plays at the club.